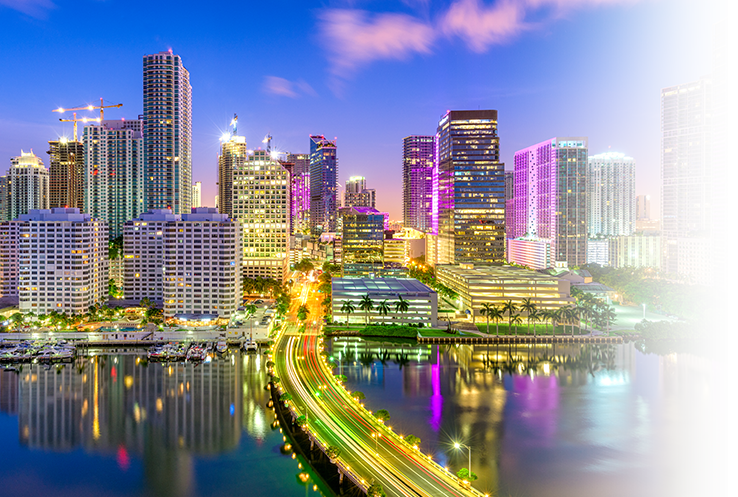 United States
Miami
Southeast Financial Center, Suite 3900
200 South Biscayne Boulevard
Miami, Florida 33131
We were one of the first international law firms to enter the South Florida market. The lawyers in our Miami office practice throughout Florida and serve as the principal connection to our Latin America practice.
Our Miami lawyers have handled some of the most significant lawsuits in Florida. We represent business clients in a broad array of commercial disputes, including deal litigation, contract interpretation, corporate governance, real estate, class actions, employment and labor, civil rights, construction, mortgage banking, insurance coverage, bankruptcy and workouts, intellectual property, product liability, toxic torts, health care litigation, and international disputes.
Our Miami Corporate group provides guidance to its clients on investments, transactions, and compliance matters. Our primary areas of focus include Mergers and Acquisitions, Private Equity and Venture Capital, Corporate Finance and Capital Markets (including public and private securities offerings), emerging companies, corporate governance, joint ventures and strategic alliances, cross-border transactions, and general corporate services. Our Estate Planning and Trusts and Estates practice counsels high net worth individuals on complex estate, tax, and business planning, providing a unique solution to each client we serve.
In bankruptcy and debtor/creditor matters, we represent secured and unsecured creditors, acquirers of assets and operations, bond and debenture holders, and creditors' committees. These engagements include significant representations of banks, private equity investors, and asset-based lenders in proceedings under Chapter 11 of the Bankruptcy Code.
Our Labor, Employment, and Workplace Safety lawyers offer our employer clients a robust practice encompassing day-to-day advice and counsel, defense of employment disputes and investigations, wage and hour actions, workplace safety claims, Americans with Disabilities Act of 1990 employment issues, and business transaction support.
We also take great advantage of our location in Miami — the commercial gateway to Latin America — and have a vibrant international practice. We represent both domestic and foreign clients in connection with inbound and outbound international transactions, with a particular emphasis on commerce involving Latin America. Our international arbitration practice focuses on Latin America, as Miami is often the preferred neutral location for disputes arising out of the Caribbean, Central America, and South America because of its lower costs, cultural compatibility, multilingual professional force, and special international arbitration court division.
The 2021 Chambers USA guide recognized the firm among leaders in Florida in the area of Corporate/M&A & Private Equity.
The 2022 U.S. News-Best Lawyers® "Best Law Firms" survey recognized the Miami office as Tier 1 in the areas of Bankruptcy and Creditor Debtor Rights / Insolvency and Reorganization Law, Commercial Litigation, Corporate Law, Litigation - Labor and Employment, and Mergers and Acquisitions Law.
Eight lawyers from the Miami office were listed among the 2022 Best Lawyers in America®, as well as several more listed among the 2022 Best Lawyers: Ones to Watch.