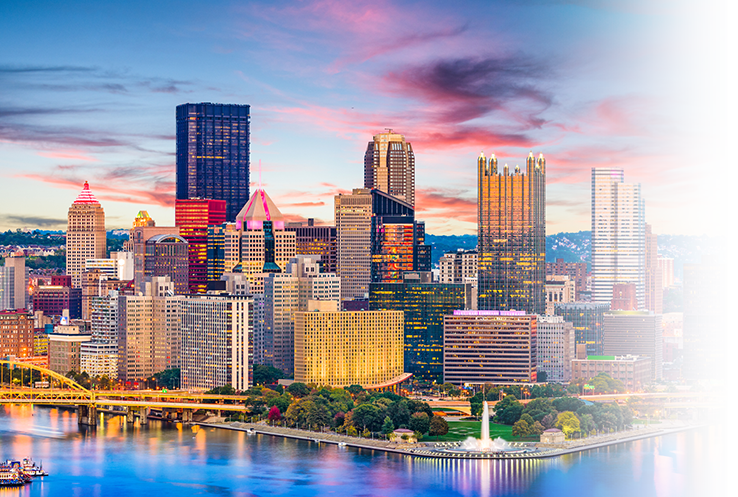 United States
Pittsburgh
K&L Gates Center, 210 Sixth Avenue
Pittsburgh, Pennsylvania 15222
Established over 75 years ago, our Pittsburgh office was K&L Gates' first office location and remains one of the largest in both Pittsburgh and Pennsylvania as a whole.
Centrally located in the heart of the Steel City, our Pittsburgh-based lawyers are renowned for developing innovative corporate and litigation solutions for a wide range of leading enterprises based in our region and around the world — often in collaboration with a fully integrated global team.
Our Pittsburgh office's corporate and business lawyers serve clients in virtually every industry segment. Our corporate team is positioned to help clients across their full spectrum of legal needs, including mergers and acquisitions, capital markets, private equity, finance, corporate governance and counseling, real estate, IP and technology, bankruptcy and restructurings, employee benefits and executive compensation, taxation, labor and employment, health care, tax exempt organizations, and trusts and estates.
Our litigation lawyers are active in numerous courts and in ADR forums in various disciplines, including securities, construction, business torts, bankruptcy, banking, antitrust, white collar crime, product liability, toxic tort, environmental, professional liability, class actions, and employment litigation, among others. Pittsburgh also serves as the focal point for the firm's nationally recognized insurance coverage practice, primarily representing policyholder clients in the analysis, litigation, and settlement of disputed coverage claims as well as providing a variety of insurance counseling and advisory services. Our Pittsburgh lawyers are also recognized for their work in intellectual property, a vital area in a city brimming with technology and innovation. The work of our Pittsburgh lawyers in the realm of intellectual property litigation includes a landmark patent infringement case for client Carnegie Mellon University, the third largest verdict ever secured from a jury in a U.S. court.
While our legal capabilities and thought leadership are highly regarded, our Pittsburgh office is defined by its role in the community. Throughout the years, the office has become well known for its substantively focused programs. From hosting events for local business and community leaders to actively supporting a number of local charities, sports teams, and professional organizations, we have a long-standing relationship with people and businesses from every corner of the City of Bridges.
Our firm also places high value on its lawyers giving back to the community by providing pro bono services. Collectively, our Pittsburgh lawyers contributed more than 10,000 pro bono hours in 2017. Our pro bono work in Pittsburgh includes our Protection from Abuse team, a program we formed 25 years ago with Neighborhood Legal Services; re-sentencing cases for juvenile criminal defendants; immigration law cases; prisoner civil rights cases; and pro bono CLE training sessions.
In 2020, the Pittsburgh office was recognized as a Tier 1 firm in the areas of Commercial Litigation; Corporate Law; Criminal Defense: White-Collar; Employment Law - Management; Environmental Law; Health Care Law; Insurance Law; Labor Law - Management; Litigation - Construction; Litigation - Intellectual Property; Litigation - Labor & Employment; Litigation - Securities; Litigation - Tax; Litigation - Trusts & Estates; Mass Tort Litigation / Class Actions - Defendants; Mergers & Acquisitions Law; Patent Law; Product Liability Litigation - Defendants; Project Finance Law; Real Estate Law; Securities / Capital Markets Law; Securitization and Structured Finance Law; Tax Law; Trademark Law; and Trusts & Estates Law by U.S. News-Best Lawyers "Best Law Firms."
The 2020 Chambers USA guide ranks the firm among leaders in Pennsylvania in the areas of Corporate/M&A & Private Equity; Environment; Insurance; Intellectual Property; Litigation: General Commercial; and Litigation: White-Collar Crime & Government Investigations.
Nearly 40 Pittsburgh attorneys were named among the 2020 Best Lawyers in America.
Pittsburgh trial lawyers have also been recognized by the American College of Trial Lawyers, International Academy of Trial Lawyers, American Law Institute, The National Law Journal, and other prestigious trial groups and publications for their trial work and litigation accomplishments.