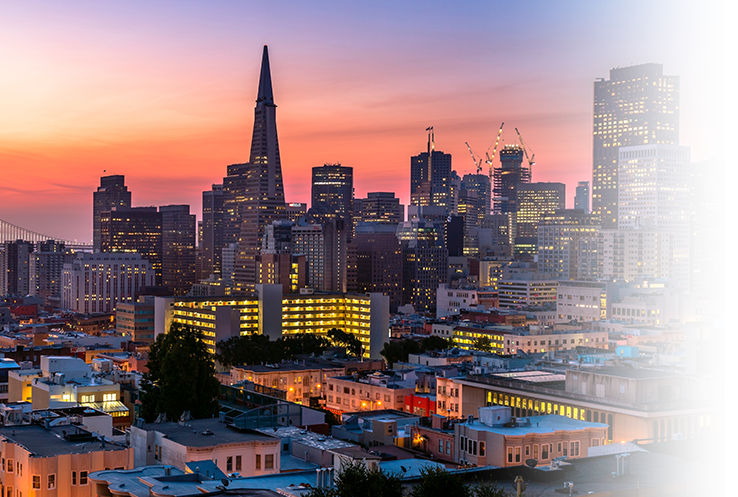 United States
San Francisco
4 Embarcadero Center, Suite 1200
San Francisco, California 94111
Known as the vanguard for high technology, electronic commerce, and the economic gateway to Asia, the San Francisco Bay Area is distinguished by an innovative entrepreneurial spirit, as is our San Francisco office, which provides a wide range of legal services to local, national, and international clients. The office has a particularly strong cross-border Asia practice, working closely with lawyers in the firm's offices in the Asia Pacific region.
Our office also features one of the region's premier intellectual property practices. The intellectual property team, among other high-profile engagements, represents a number of Asia-based clients in patent cases in the United States. Our patent trial team consists of seasoned trial lawyers and technical lawyers with advanced degrees and patent bar memberships. When the solution is a license agreement, we are well equipped to negotiate the best terms possible. Our counseling practice focuses on all aspects of intellectual property protection and exploitation, including patent and trademark prosecution.
Our litigators handle a wide variety of complex civil cases in state and federal courts throughout the San Francisco Bay Area, Northern California, and elsewhere. Civil cases include contractual disputes, business torts, products liability, toxic torts, securities and consumer fraud, insurance coverage, real estate, construction, employment, environmental, and creditors' rights.
Our lawyers assist with the structuring and formation of hedge funds, venture capital funds, and other private funds and counsel investment advisers in complying with federal and state securities regulatory and compliance matters. Our lawyers also represent public pension plans, family offices, and other institutional investors in connection with their investments in private funds. Our corporate/mergers and acquisitions (M&A) lawyers represent both domestic and international public and private companies with cross-border M&A, venture capital financings, joint ventures, and startup company matters. Our energy practice lawyers provide comprehensive counseling on energy, infrastructure, and remediation projects, including advice on air, water, and waste compliance issues.