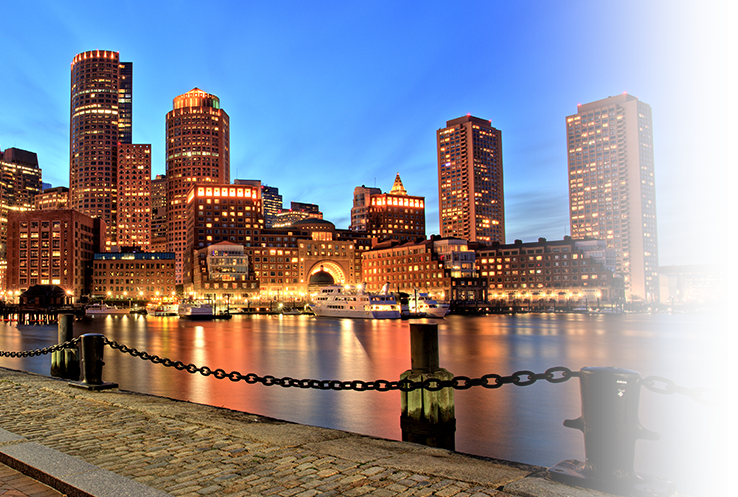 United States
Boston
1 Congress Street
Suite 2900
Boston, Massachusetts 02114
United States of America
Founded in 1984, the Boston office serves clients in a broad array of disciplines across multiple industries.
We have one of the most experienced investment management legal teams in Boston. Our Asset Management and Investment Funds practice is the advisor of choice to sophisticated global investment managers and is regarded as a key partner in the success of their businesses. Whether representing private investment funds and their sponsors, institutional investors, registered investment companies and their boards, investment advisers, or broker-dealers, we are entrusted by our clients to solve their most complex and challenging issues with our practical advice and comprehensive guidance across jurisdictions. With more than 50 years of experience in the asset management industry and more than 160 lawyers in nearly 30 offices across the globe, we have the experience, knowledge, and skills to assist clients locally and anywhere in the world.
Our Boston office handles a wide variety of complex civil litigation matters, including intellectual property (IP), insurance coverage, environmental, securities, mortgage banking, construction, product liability, creditors' rights and bankruptcy, antitrust, and other complex commercial matters. We litigate all phases of commercial disputes arising out of business combinations, asset and share purchases, corporate finance transactions, public offerings, and disclosure requirements. Our Commercial Disputes practice is a natural and seamless complement to our Corporate and Asset Management and Investment Funds practices.
Our Boston-based Corporate lawyers represent a variety of mature and growth companies, both public and private, addressing a wide range of legal needs, including organization and structuring, public and private financing, mergers and acquisitions, private equity, venture capital, restructuring and bankruptcy, tax planning, joint venture arrangements, product development collaborations, and technology licensing. They also represent multinational companies, private equity funds, and domestic and foreign operating companies in complex cross-border transactional, corporate, and capital markets work in Asia, Europe, South America, and the United States, and routinely represent multinational companies in international trade and customs-related matters in South America.
Our Investigations, Enforcement, and White Collar team, which includes former senior U.S. Department of Justice (DOJ) and SEC lawyers, is actively engaged in a variety of corporate investigations, securities litigation, and securities enforcement matters. These matters encompass representation of financial services firms, regulated entities, health care companies, public companies, their officers and directors, and other individuals in investigations and actions brought by the DOJ; SEC; Financial Industry Regulatory Authority; foreign, state, and local regulators; and other self-regulatory agencies.
The Boston office is actively engaged in prosecuting patents, obtaining trademark and copyright registrations, litigating patent and other IP disputes, advising on cyber law and licensing issues, and otherwise representing our clients in matters of national and international significance in IP matters. The Boston IP team has been involved in Hatch-Waxman-related patent litigation, including abbreviated new drug application infringement suits and exemptions from infringement for Food and Drug Administration-related activities, and counsels clients on international patent litigation strategies. Our team also frequently represents venture capital firms in their investments in technology companies. The team also uses its deep knowledge and experience in life sciences technology to help biotech companies at all stages of growth to strategically build a robust patent portfolio.
Our Boston Labor, Employment, and Workplace Safety lawyers represent local, regional, and national employers and counsel them on all legal aspects of personnel management, including executive compensation and employee benefits matters. We also handle a wide range of employment disputes, including contract disputes, noncompetition and misappropriation of trade secret cases, discrimination, harassment and retaliation cases, wage and hour disputes, employee misconduct matters, tort-based claims, and disputes related to data privacy breaches, as well as compliance with data privacy regulations. We regularly advise companies on social media policies and related issues. Our Boston-based team frequently collaborates with employers to conduct a variety of in-house training sessions.
Rounding off the capabilities of our Boston office are Antitrust, Competition, and Trade Regulation, Banking, Finance, Tax, Insurance Recovery and Counseling, and Financial Services practices.
The Boston office actively provides pro bono representation. Some of our recent projects include representing individuals seeking asylum or permanent residency status in the United States in order to avoid persecution or violence in their country of origin; representing a civil rights organization as amici curiae in support of the City of Boston's efforts to redistrict city councilors' jurisdictions following the decennial census; and providing transactional representation to local charitable organizations serving the Boston metropolitan community. Notably, a team of Boston attorneys represented a pro bono client wrongfully convicted of first-degree murder and sentenced to life imprisonment. After prevailing before the trial court and state supreme court, they persuaded the District Attorney's Office to dismiss all charges, resulting in the client's release from prison after serving more than 36 years for a crime he did not commit.
The 2021 Chambers USA guide recognized the firm among leaders in Massachusetts in the areas of Banking & Finance: Bankruptcy/Restructuring, and Hedge & Mutual Funds.
The 2022 U.S. News-Best Lawyers® "Best Law Firms" survey recognized the Boston office as Tier 1 in the areas of Banking and Finance Law; Biotechnology Law; Commercial Litigation; Copyright Law; Criminal Defense: White-Collar; Financial Services Regulation Law; Litigation - Intellectual Property; Mutual Funds Law; and Personal Injury Litigation - Defendants.
Over 5 lawyers from the Boston office were listed among the 2022 Best Lawyers in America®, with several more listed among the 2022 Best Lawyers: Ones To Watch.