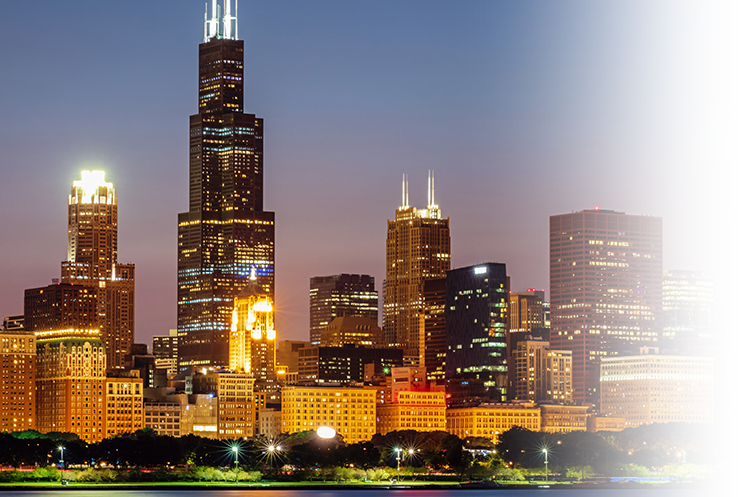 United States
Chicago
70 West Madison Street, Suite 3300
Chicago, Illinois 60602
United States of America
Established in 1888, our Chicago office sits at the heart of a vibrant and vital global business center and counts many of the region's Fortune 500 and mid-sized companies among its longstanding clients and represents companies around the globe.
The Chicago office offers comprehensive legal counsel, including corporate, intellectual property (IP), litigation, antitrust, investment management, real estate, employment, executive compensation, health care, and regulatory services.
Our IP practice dedicates its work to patent, trademark, copyright, licensing, counseling, technology transactions, data privacy, and related litigation. Many of our Patent lawyers are technically trained with degrees, including advanced degrees, in electrical, computer, mechanical, and chemical engineering; organic chemistry; materials science; microbiology; and molecular biology. Our Patent lawyers procure hundreds of patents annually on behalf of consumer electronic, medical device, international food, online enterprises, and other technologically advanced companies. Our Patent Litigation lawyers represent leading technology companies in infringement actions throughout the United States, as well as inter partes reviews at the U.S. Patent and Trademark Office. Our Trademark Professionals protect the global brands of some of the world's most prominent businesses.
Our Corporate lawyers advise all sizes of public and private companies in mergers and acquisitions, capital markets, corporate governance, and securities compliance. We have extensive Mergers and Acquisitions experience representing both buyers and targets in public and private company acquisitions. Our Securities experience includes public offerings and private placements of debt and equity, initial public offerings, shelf offerings, and public stock-for-stock mergers. Our Transactional experience extends to cross-border transactions, management buyouts, restructurings, and private equity and venture capital investments. We often function as principal outside counsel advising clients on business development, joint ventures, technology transfers, and commercial endeavors. The office also represents corporate borrowers, private equity and venture capital funds, and high-net-worth individuals in domestic and international commercial lending transactions.
Our Chicago office has a deep bench of litigators who are active in courts and arbitration forums in a variety of disciplines, including securities, consumer class actions, business torts, banking, employment and product liability, and medical payer-provider disputes, among other areas. The office is home to a nationally recognized Securities practice, which has achieved groundbreaking dismissals and other highly favorable resolutions of claims for its clients, which include prominent financial institutions, mutual fund managers and trustees, and investment advisers. Our Commercial Litigators also focus on cutting-edge legal issues involving biometric data, cryptocurrency, and social media.
Our office also houses one of the firm's largest groups of Antitrust, Competition, and Trade Regulation lawyers with extensive experience representing companies and executives in domestic and international criminal antitrust investigations and proceedings, as well as in enforcement actions brought by antitrust agencies. Our Antitrust team also assists companies with obtaining clearance for mergers and acquisitions, joint ventures, helps them establish distribution systems, and avoid antitrust risks by developing audits, compliance programs, and staff training. On the Litigation side, our team handles large-scale class actions and government enforcement matters and includes a former assistant U.S. attorney adept at handling matters such as bribery, trade secret theft, insider trading, price manipulation, and more.
The 2021 Chambers USA Guide recognized the firm among leaders in Illinois in the area of Antitrust.
The 2022 U.S. News-Best Lawyers® "Best Law Firms" survey recognized the Chicago office as Tier 1 in the areas of Employment Law - Management; Health Care Law; and Patent Law.
Over five lawyers from the Chicago office were listed among the 2022 Best Lawyers in America®, as well as more than five being listed among the 2022 Best Lawyers: Ones to Watch.