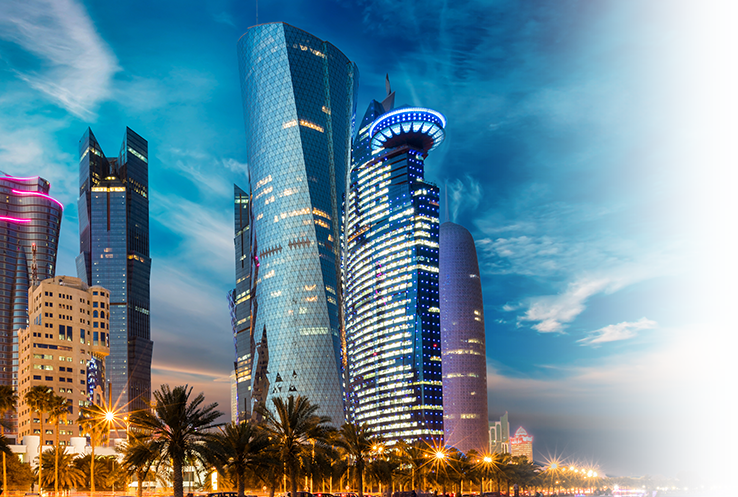 Middle East
Doha
Qatar Financial Centre Branch licensed by the Qatar Financial Centre Authority (QFC No. 00144)
31st Floor Tornado Tower
Al Funduq Street
PO Box 26100 West Bay
Doha
Our Doha office is located in Qatar's prestigious West Bay. With significant proven reserves of both oil and natural gas, and one of the world's highest per capita production rates, Qatar's economy is one of the fastest growing in the world.
Our team of lawyers has a deep understanding of the Qatari legal, regulatory, commercial, and financial markets paired with substantial Middle East and international experience. Our full-service legal practice in Doha offers legal advice in all areas, including corporate, commercial, regulatory and legislative drafting, projects, energy and infrastructure, aviation, banking and finance (including Islamic finance), telecoms, media and technology, real estate and construction, intellectual property, and all manner of dispute resolution.
We represent major State of Qatar-backed entities, family conglomerates, listed companies, and financial institutions doing business both domestically and abroad, as well as international clients doing business in Qatar and across the Middle East region. Members of our team have worked on a number of strategic government advisory mandates and are regarded as experienced practitioners in Doha. These mandates have included advising government agencies on the preparation and drafting of the entire suite of laws and regulations for their operations and projects, advising on trophy-asset acquisitions, and supporting strategic restructurings.
Alongside this, our firm was retained as the key adviser and drafter of the entire suite of new contracts being rolled out for Ashghal, the Qatar Public Works Authority. We take pride in having one of the few specialist public-private partnership lawyers operating in the Middle East, and consider our Doha office to be a true market leader when it comes to advising clients on front-end construction and infrastructure project tendering, contract drafting, and financing.
Doha is one of the centers of excellence for our global Islamic finance group. We advise banks and borrowers on all aspects of their banking and finance requirements, including some of the most complex regional work-outs involving complicated cross border and Shariah issues. Our office is the country correspondent for Islamic Finance News, a leading global news provider in the Islamic finance sector, and also advised on the award-winning first Shariah-compliant Exchange Traded Fund in Qatar.
Our Litigation and Dispute Resolution team is a very active part of our local offering. We routinely carry out advocacy in arbitration and the Qatar Financial Centre Courts, delivering our clients a full-service dispute resolution offering to ensure they have maximum visibility and control over their cases. We regularly advise local and international clients on litigation, arbitration, mediation, and, in particular, dispute avoidance and alternative dispute resolution. Our Litigation and Dispute Resolution partners in the region also sit as arbitrators. We have an impressive track record of cases in the local Qatari courts, in which we work closely alongside leading local counsel as our clients' advocates.
Our Doha office has a regional outlook and works across the wider Middle East region on mandates for Qatari, regional, and international clients. Additionally, our office has a fully bilingual offering and is able to seamlessly advise clients in connection with documents and laws drafted in English and Arabic. With the benefit of our global platform, we routinely work with an international team of lawyers on projects across different jurisdictions, practice areas, and time zones.
The 2021 Chambers Global Guide recognized the firm and its lawyers as leaders in Qatar in the areas of Corporate/Commercial; Corporate/Commercial: Banking & Finance; Dispute Resolution: International Firms; and Projects & Energy.
The 2022 Legal 500 EMEA Guide recognized the firm as leaders in Qatar in the areas of Commercial, Corporate and M&A; Dispute Resolution; and Projects, Real Estate, and Construction.