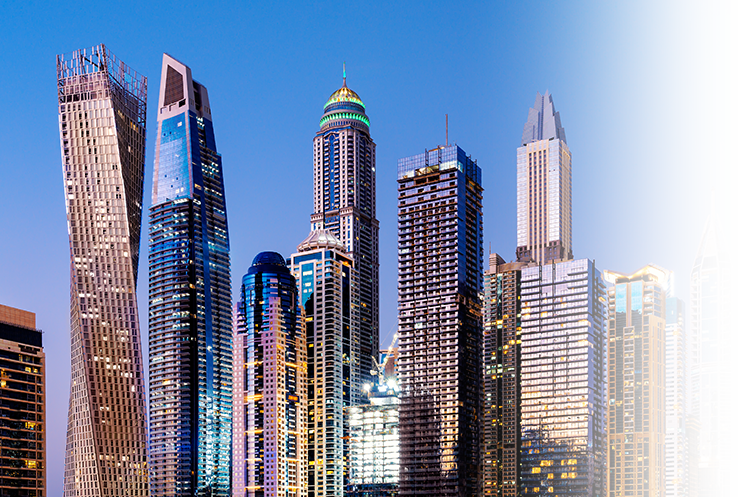 Middle East
Dubai
Al Fattan Currency House, Level 4, Dubai International Financial Centre, P.O. Box 506826
Dubai
Our Dubai office, established in 2009, supports clients doing business in the United Arab Emirates (UAE), the wider Middle East and North Africa (MENA) region, and beyond by helping to meet their legal, corporate, commercial, and regulatory needs in pursuit of their key objectives. Our Dubai-based lawyers provide advice on all aspects of onshore UAE law and practice, including retention and supervision of local lawyers in the Dubai and UAE courts, as well as the laws and regulations applicable in the UAE free zones—including the Dubai International Financial Centre and Abu Dhabi Global Market. Our legal team comprises civil and common law qualified lawyers with full bilingual English and Arabic capability, in order to seamlessly advise clients across a wide variety of situations.
The UAE's continued commitment to infrastructure development and its position within the financial services sector make it an important location for our firm. Further, its proximity to Europe, Africa, and Asia enhances the strength of its international trading relationships.
The focuses of our Dubai office are dispute resolution (including arbitration), insurance coverage, a broad spectrum of commercial and corporate matters (including mergers and acquisitions, private equity, and venture capital investments), capital markets, investment funds, financial services regulatory advice, banking and finance, and employment. The office also works closely with our firmwide Islamic Finance group.
Recognized by the Islamic Finance News (IFN) Law Awards as the Fintech Law Firm of the Year 2023
The Chambers Global 2023 guide recognized the firm and its lawyers as leaders in the United Arab Emirates in the area of Dispute Resolution and Employment.
The Legal 500 EMEA 2023 edition recognized the firm among leaders in the United Arab Emirates in the areas of Dispute Resolution: Arbitration and International Litigation, and Employment.