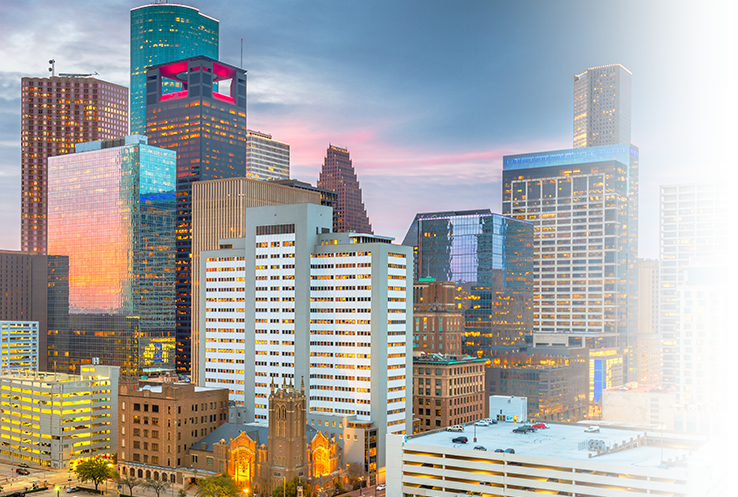 United States
Houston
609 Main St.
Suite 4150
Houston, Texas 77002
United States of America
Our presence in Texas spans more than 40 years with offices in Austin, Dallas, Fort Worth, and Houston.
Collectively, our Texas lawyers provide comprehensive legal services to public and private businesses across all industry sectors on national and international matters, in addition to those involving Texas-specific law. From lobbying and legislative counseling (including media relations and community outreach), to oil and gas litigation, to private funds, to cross-border transactions, to Texas state and local taxes, our team collaborates across our fully integrated offices within Texas and around the world to handle our clients' most complex legal issues.
Our Houston office, which opened in 2013, is located in one of the country's most diversified regional economies and populations.
As the largest inland port in the United States, Houston serves as a critical gateway for trade and investment in the energy, commodity trading, and shipping and transportation industries. In addition, Houston is a hub for health care and technology development, with the largest international medical center and health care technology industry in the world. Because of its strategic location and the experience of K&L Gates' lawyers in energy law, intellectual property, and finance, our Houston office has become a linchpin for the firm's energy, infrastructure, and resources practice, which allows collaboration with other offices across our global platform on U.S. and cross-border investments, transactions, and disputes in a variety of industry sectors.
Our Houston lawyers are highly experienced in advising companies on all types of mergers, acquisitions, and dispositions, as well as on corporate/capital market transactions, with particular emphasis on energy transactions. We have deep experience serving the upstream, midstream, and downstream oil and gas sectors on both U.S. and international transactions, as well as in U.S. and cross-border dispute resolution. Our lawyers advise private and public companies in oil and gas production, project development, service, refining, and marketing. Additionally, our lawyers handle liquefied natural gas/maritime, commodity trading, and power generation/offtake transactions. On the power side, our Houston lawyers advise clients and businesses around the world in electric utility and renewable energy projects, including national and international joint ventures, debt and equity offerings, project development, project finance, and more.
Our Houston litigation experience spans a broad range of commercial disputes, including disputes arising from the energy, manufacturing, labor and employment, health care, and pharmaceutical sectors. Our Litigation and Dispute Resolution lawyers are highly experienced in U.S. and international arbitrations and dispute resolutions, in the enforcement of U.S. judgments and awards overseas, and in foreign judgments and awards within the United States. We also represent clients, lenders, and purchasers in bankruptcy and restructuring transactions and litigation matters.
The 2021 Chambers USA guide recognizes the firm among leaders in Texas in the area of Environment, and Technology: Outsourcing.
The 2022 U.S. News-Best Lawyers® "Best Law Firms" survey recognized the Houston office in the areas of Energy Law, and Project Finance Law.