K&L Gates AIM Update
28 October 2020
Team advises on three AIM IPOs in three months, raising £111.5m
K&L Gates recently advised on three AIM IPOs in three months. The K&L Gates team advising on these transactions included partners Paul Tetlow, James Green and Tom Wallace.

Paul Tetlow commented: "Given the complications of working from home and the stock market reaction to the pandemic, it is a testament to our collaborative team-based approach and sound use of leading legal and project management technology that has allowed us to remain highly active in the market over the last six months. Tom, James, and I, along with our highly experienced team, have worked tirelessly together to find opportunities to act for both issuers and NOMADs/brokers. Our collaborative team ethos and partner-led approach is recognised by clients as an excellent value proposition. AIM continues to be a great source of capital for growth companies and an excellent alternative to a trade sale for owner managers and private equity backers."

K&L Gates' recent deals included: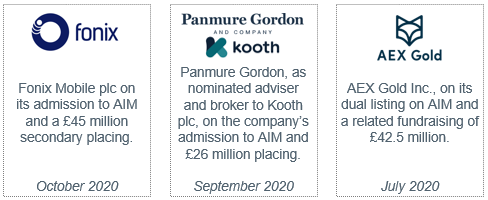 In October, K&L Gates advised Fonix Mobile plc on its admission to AIM and a £45 million secondary placing. Fonix is a UK-focused mobile payments and messaging company enabling businesses to charge users' mobile bills and send users SMSs via their carrier. Rob Weisz, Chief Executive of Fonix Mobile plc, commented: "Thanks so much to all of the team at K&L Gates. The team worked tirelessly through this process in a really short time period and were hugely efficient and supportive in helping us get the IPO over the line." Tom Wallace stated: "It was a pleasure to work on this transaction with Fonix and be a part of the Fonix growth story. This transaction illustrates our position as a leading adviser to companies listing on the AIM market and played to our strengths in working with technology-enabled and regulated businesses." The K&L Gates team that advised Fonix was led by London corporate partner Tom Wallace and included corporate associates Robert Boughey and Victoria Cormack, regulatory partner Philip Morgan, technology transactions senior associate Sunny Kumar, and employment associate Natalie Taylor.

In September, a team of K&L Gates lawyers advised Panmure Gordon, as nominated adviser and broker to Kooth plc, on the company's admission to AIM, a placing by the company of new shares to raise £16 million and a sale of existing shares by the company's major shareholder, Root Capital Fund II L.P, to raise £10 million. Kooth is a leading provider of online mental health services. The company intends to use the new funds to support its growth plans, which include investing in its platform and service offering and expanding within strategic markets. The team that advised Panmure Gordon was led by London partner James Green and included associates Craig Fraser and Heather McLoughlin, and trainee solicitor Ravena Guron.

In July, K&L Gates advised AEX Gold Inc., a Toronto Stock Exchange Venture Exchange (TSXV)-listed independent gold mining company with a portfolio of gold licences in Greenland, on its dual listing on AIM and a related fundraising of £42.5 million through a placing and subscription with new and existing investors. The company has established the largest land package of gold assets in Greenland, with a current portfolio of licences covering 3,356 square kilometres in the two known gold belts in Southern Greenland, the Nanortalik and Tartoq gold belts. The net proceeds of the fundraising will be used to commence development at the company's previously producing Nalunaq gold mine in Southern Greenland, as well as funding targeted exploration activities across its wider licence portfolio. Eldur Ólafsson, AEX Gold Inc.'s Founder and CEO, commented: "We are delighted with the result of this transaction, which will enable the company to unlock value for its shareholders and stakeholders. Our ambition is to become a full-cycle gold mining business of scale in Greenland, with Nalunaq the first project in what we believe could be many from our existing portfolio of gold assets. James, Paul, and the rest of the international K&L Gates team have been responsive, commercial, and committed to helping us achieve the fundraising and admission to AIM. Their cross border sector experience has been extremely valuable as we worked together to complete the transaction." The K&L Gates team that advised AEX was led by London partners James Green and Paul Tetlow and included Robert Boughey, Victoria Cormack, Heather McLoughlin, Jamie Kershaw, Ravena Guron, and Madeleine Williams, with assistance from Boston partner Mark Johnson and Boston associate Bella Zaslavsky.
K&L Gates is a fully integrated global law firm with lawyers located across five continents. The firm represents leading multinational corporations, growth and middle-market companies, capital markets participants and entrepreneurs in every major industry group as well as public sector entities, educational institutions, philanthropic organizations and individuals.