K&L Gates has Another Blockchain First! Client Alert on NFTs Minted as an NFT
4 May 2021
A recent K&L Gates client alert about non-fungible tokens (NFTs)–a blockchain technology rising in popularity and receiving significant attention within the industry–has been itself minted as an NFT. NFT.Kred, a client of the firm, minted this alert as an NFT, making K&L Gates one of the first law firms to issue an article as an NFT. A champion for blockchain technology in the legal industry, K&L Gates was also one of the first law firms to implement their own private blockchain back in 2017.
NFTs are unique digital tokens issued on a distributed ledger such as a blockchain, and can be tied to any digital asset. Recent high-profile large dollar sales have contributed to increased NFT activity and interest. However, as the client alert indicates, there are some legal issues and risks, and those contemplating issuing and selling NFTs should understand the relevant issues.
Judith Rinearson, a partner in the New York and London offices, said: "We are proud to not only advise our clients on the legal aspects of NFTs and other blockchain applications, but also to join them as active participants in the industry." Rinearson noted that she was particularly happy to partner with client NFT.Kred in minting the firm's alert as its own NFT since NFT.Kred uses Polygon (formerly Matic), an inexpensive and scalable blockchain that offers an environmentally friendly, low-energy, NFT solution.
What will K&L Gates do with their NFT? The firm is looking to auction it to its lawyers, with the funds benefiting local charities.
Jodee Rich, CEO of NFT.Kred, adds: "NFTs are popular because they combine blockchain tokens with underlying art and content that is provably unique. We were delighted when K&L Gates expressed an interest in turning their own NFT client alert into an NFT itself." K&L Gates' NFT will be represented by this image designed by NFT.Kred artist and software designer Fagner Lordello.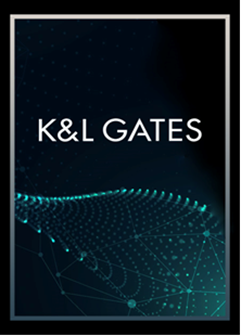 Click here to read our client alert that has been minted as an NFT.
K&L Gates is a fully integrated global law firm with lawyers located across five continents. The firm represents leading multinational corporations, growth and middle-market companies, capital markets participants and entrepreneurs in every major industry group as well as public sector entities, educational institutions, philanthropic organizations and individuals.