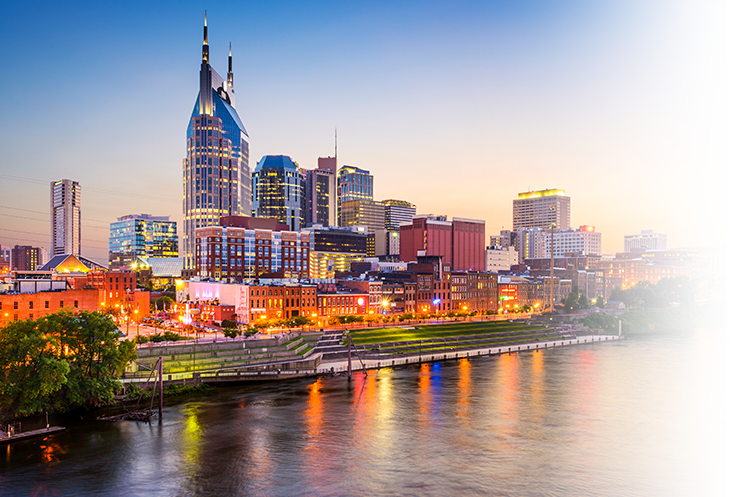 United States
Nashville
501 Commerce Street
Suite 1500
Nashville, TN 37203
United States of America
The Nashville region is booming. This capital city is one of the fastest growing cities in the United States, and is a hub of activity. Over the past few years, the economic growth of the region has been spurred by several major industries including finance, health care, higher education, manufacturing, and technology. Businesses in each area are poised to expand, but to do so, they need professional services. As a firm, we serve many clients across all of these sectors, some with deep connections to the Nashville market. We can offer substantive experience and regional intelligence locally, nationally, and globally.
The lawyers in our Nashville office are premier practitioners and who serve clients in a broad array of disciplines, including:
Banking and Finance;
Commercial Litigation;
Construction Litigation;
Health Care;
Intellectual Property;
Private Equity; and
Real Estate.
Our prominent group of lawyers provide clients with in-depth practice area capabilities, industry insights and knowledge, and geographic reach.
At K&L Gates, we foster an inclusive and collaborative environment across our fully integrated platform which enables us to combine the knowledge and experience of our lawyers to create legal teams that provide exceptional client solutions— that's the K&L Gates Experience.
In 2022, the Nashville Bar Association honored our Nashville office with a Diversity Recognition Award. These awards recognize legal departments, firms, and businesses who have demonstrated outstanding leadership to promote diversity and inclusion through education, innovation, collaboration, development, and mentorship programs within their organizations.
The 2022 U.S. News-Best Lawyers® "Best Law Firms" survey recognized the Nashville office in the areas of Commercial Litigation, Construction Law, Corporate Law, Health Care Law, Litigation - Health Care, Litigation - Real Estate, Personal Injury Litigation - Defendants, Administrative / Regulatory Law, Bet-the-Company Litigation, and Litigation - Intellectual Property.
Ten lawyers from the Nashville office were listed among the 2022 Best Lawyers in America®, as well as several more listed among the 2022 Best Lawyers: Ones to Watch.