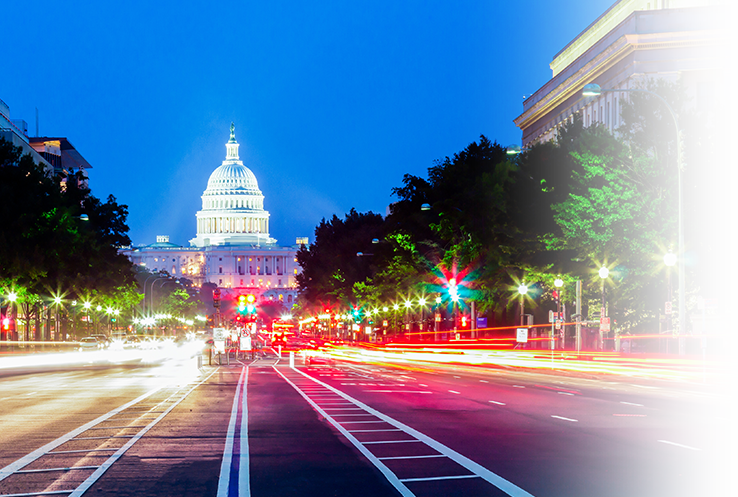 United States
Washington DC
1601 K Street, NW
Washington, D.C. 20006
United States of America
Located in close proximity to the White House, Capitol Hill, and various federal agencies, our Washington, D.C., office is home to many nationally ranked practices.
Our Public Policy and Law group, one of the largest bipartisan teams of lawyers and policy professionals of any fully integrated global law firm, is a who's who of former US government officials, including members of Congress, Republican and Democratic counsel, House and Senate leadership committee staff, and presidential campaign and transition team members.
The office is nationally recognized for its work in diversified financial services is among the largest financial services practices in the United States. It encompasses preeminent investment management, financial services policy, and financial services regulatory capabilities focused on emerging areas (such as fintech), as well as long-standing financial services activities.
Our Washington, D.C., office also houses a prominent Government Contracts and Procurement Policy practice that provides "cradle-to-grave" assistance to federal, state, and local government contractors in a wide variety of regulatory, transactional, and litigation matters.
International trade regulation and policy is another area where our office has extensive capabilities. Lawyers in this practice group assist clients in the United States and abroad with nearly any type of international trade matter in any location, particularly those matters involving the World Trade Organization.
Moreover, our robust Energy practice assists clients in a wide variety of transactional, regulatory, and litigation matters relating to both the electric power and natural gas industries. Our firm has been a key participant in developing state and federal legislation and regulation on energy, water, and solid waste issues. Members of our interdisciplinary energy team leverage experience from many practices and work closely with our public policy group in order to address these industries' unique challenges.
Washington, D.C.-based lawyers in our White Collar Defense and Investigations practice are renowned for their ability to navigate criminal and civil actions brought by governmental agencies, as well as successfully defend clients in investigations and litigated enforcement actions brought by federal and state regulators, including the Department of Justice, the Securities and Exchange Commission, the Financial Industry Regulatory Authority, the Federal Energy Regulatory Commission, state attorneys general, and other agencies.
In addition, the Washington, D.C., office's Litigation and Dispute Resolution group handles a variety of general commercial, securities, financial institutions, antitrust, government contracts, environmental, intellectual property, and insurance coverage matters, as well as criminal and civil actions brought by, and civil actions against, governmental agencies.
Our Washington, D.C., office also includes a multidisciplinary team that helps clients capitalize on opportunity zones and other national economic incentive programs. Our lawyers covering tax, tax policy, investment management, real estate, and renewable energy provide full-service guidance to fund sponsors, developers, innovators, and investors in this space.
Rounding off the capabilities of our Washington, D.C., office are highly regarded services in the areas of corporate and transactional, real estate, insurance coverage, higher education, nongovernmental organizations, and tax-exempt organizations.
The 2023 U.S. News-Best Lawyers® "Best Law Firms" survey recognized the Washington, D.C., office as Tier 1 in the areas of Employee Benefits (ERISA) Law, Energy Law, Energy Regulatory Law, Financial Services Regulation Law, Government Relations Practice, Litigation - Securities, Mergers and Acquisitions Law, Mutual Funds Law, Securities/Capital Markets Law, and Securities Regulation.
Thirty lawyers from the Washington, D.C., office were listed among the 2024 Best Lawyers in America®; two lawyers were listed among the 2024 Best Lawyers: Ones to Watch® in America.