Partners
K&L Gates is the right firm for you if you seek a global platform with unified practices and resources, are collaborative and willing to cross-sell and introduce other lawyers to your clients, and have an entrepreneurial approach to your practice. Our global platform, diversity of practice strengths, and integrated approach to client service have positioned us to meet the needs of all stages of the business cycle. We have great architecture in which to work globally, and where you will be able to establish colleagues, clients, and friends across the world.
We welcome partners who share in our commitment to providing the highest level of client service and quality legal counsel, and offer a platform where you can thrive and capitalize on the success of a highly acclaimed law firm.
Download our quick reference guide to what makes K&L Gates the right firm for partners >
A Culture of Collaboration
Corporate Social Responsibility
Learn about our commitment to pro bono, sustainability, community service, and diversity.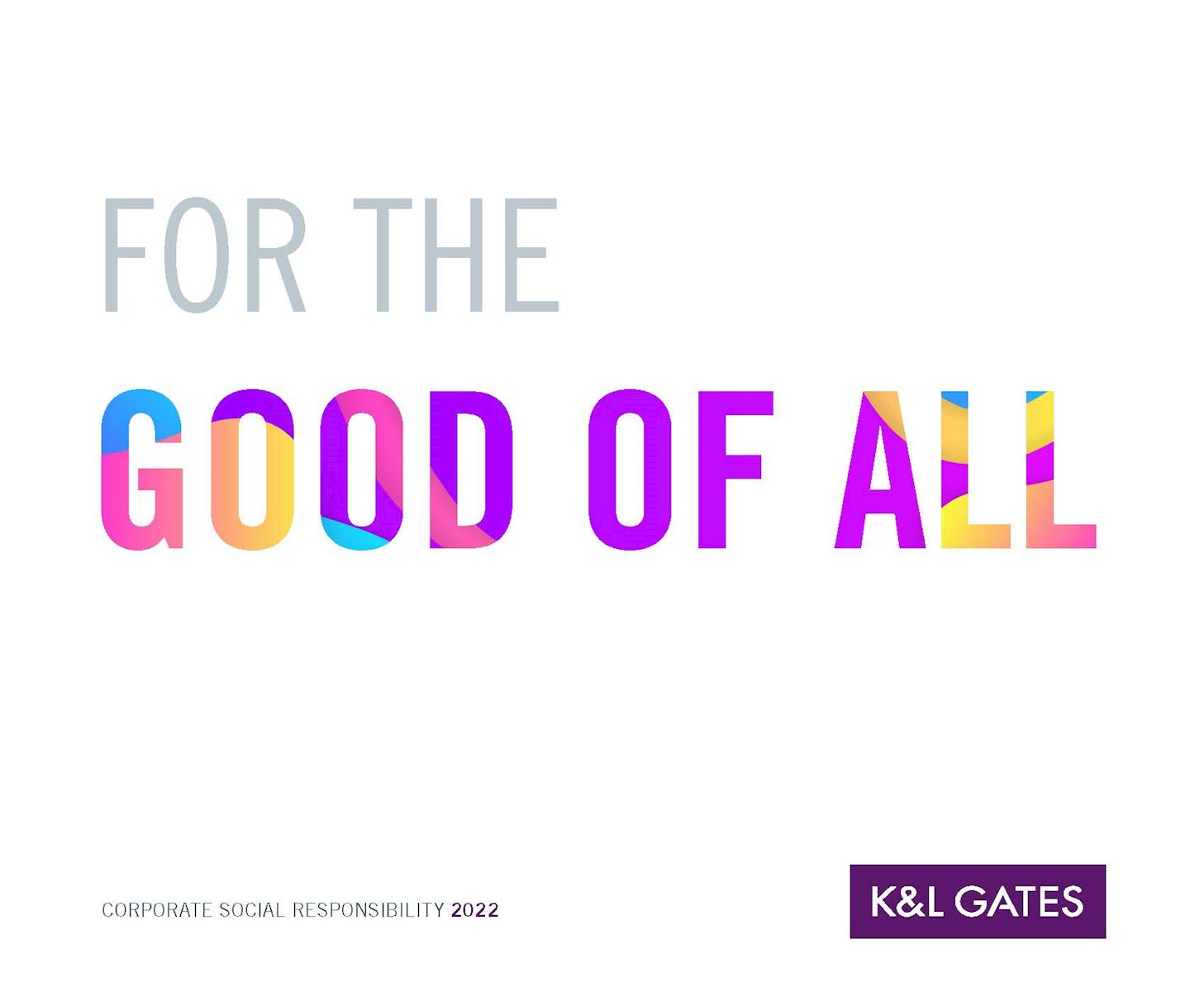 Read our CSR Report
Our strategic presence in key markets and in global financial districts provides opportunities to serve clients and collaborate with colleagues around the world.
We embody partnership in every sense, having approximately one-third of our revenue sourced by a different office or practice group than that of the working lawyer.
Effective business operations that allow you to focus on practicing law.
As a fully integrated firm we maintain a single profit center across practices industry groups, and regions, resulting in a credit system that aligns with client interests.
Our industry groups align lawyers across multiple offices and practices to bring together multidisciplinary teams that deeply understand the businesses of our clients in these industries and the legal, regulatory, and other challenges they face.
We offer a fair and transparent compensation system that rewards more than just client origination. The system is designed to incentivize lawyers to share ownership of client solutions in a collaborative way that syncs with a client's objective of efficiency and responsiveness.
Our genuinely collaborative culture brings together a client-focused combination of high-level practice area expertise, specific industry knowledge, and global geographic reach.
The firm has no bank debt—neither long-term nor short-term debt. The firm's conservative fiscal approach provides protection to the new generation of partners who will not be inheriting interest bearing debt as a mortgage on their future opportunities.
Our well-trained and mentored associates will help you service and grow your client relationships.
Robust lateral integration and professional development programs, such as our Strategic Partnering Program, offer a demonstrated record of success in supporting client growth efforts with our new lateral partners.
Our Client Growth Team will help facilitate creative and strategic client growth approaches.
We take an investment-oriented approach to project management and pricing technology with a team devoted to innovation in alternative fee agreements and client budgets.
With our focus on innovation, we source and implement technology that is easy to use and effective, and maintain industry-leading and enhanced infrastructure with resilient networks, redundant data centers, and virtualized computing power.
At the onset of COVID-19, our lawyers formed a worldwide task force to coordinate and collaborate on a resource center that includes alerts, guides, podcasts, webinars, and roundtable events covering a wide range of topics. More than 600 lawyers and legal professionals across practices and regions contributed more than 500 pieces of content. The resource center has become a valuable resource to our clients, who have praised the quality, clarity, and usefulness of our materials.
As a new K&L Gates partner, you will have the immediate support of a robust lateral integration team, customized for you and your practice, and dedicated to your smooth integration into the firm. This team of partners and allied professionals will help you learn the ropes and make connections, ensure you have necessary resources, and assist you in effectively marketing and developing your business including identifying cross-selling opportunities. You will find that you are part of a team that is committed to your success.
Our recruitment process is designed to be comprehensive, informative, and engaging. You will meet with lawyers from your practice area across the globe and lawyers outside of your practice area, in order to provide you with a panoramic view of what it is like to be a partner at K&L Gates. The process is a two-way street in which you are encouraged to ask as many questions as you need to feel comfortable that the firm is the right place for you and your practice. We are fully equipped to conduct interviews virtually when necessary.
To begin exploring opportunities as a partner with K&L Gates, please contact:
Katey Espinosa
Senior Manager, Lateral Recruiting
1 Park Plaza, Twelfth Floor
Irvine, CA 92614
T: +1.949.623.3584
katey.espinosa@klgates.com