Partners
K&L Gates is the right firm for you if you seek a global platform with unified practices and resources, are collaborative and willing to cross-sell and introduce other lawyers to your clients, and have an entrepreneurial approach to your practice. Our global platform, diversity of practice strengths, and integrated approach to client service have positioned us to meet the needs of all stages of the business cycle. We have great architecture in which to work globally, and where you will be able to establish colleagues, clients, and friends across the world.
We welcome partners who share in our commitment to providing the highest level of client service and quality legal counsel, and offer a platform where you can thrive and capitalize on the success of a highly acclaimed law firm.
Corporate Social Responsibility
Our commitment to diversity and inclusion, pro bono, and community outreach is woven into our DNA.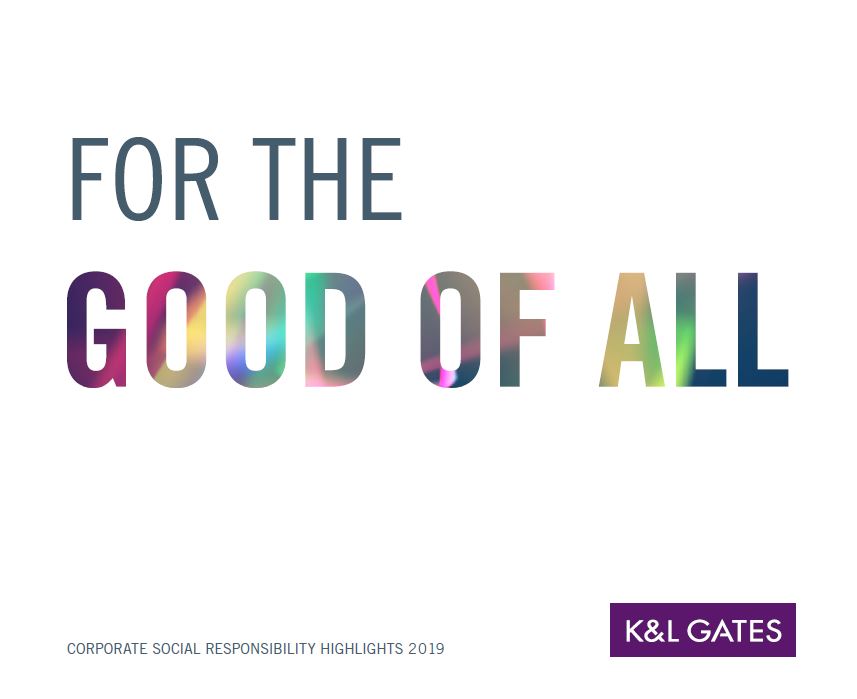 Read our CSR Report
As a new K&L Gates partner, you will have the immediate support of a robust lateral integration team, customized for you and your practice, and dedicated to your smooth integration into the firm. This team of partners and allied professionals will help you learn the ropes and make connections, ensure you have necessary resources, and assist you in effectively marketing and developing your business including identifying cross-selling opportunities. You will find that you are part of a team that is committed to your success.
Our recruitment process is designed to be comprehensive, informative, and engaging. You will meet with lawyers from your practice area across the globe and lawyers outside of your practice area, in order to provide you with a panoramic view of what it is like to be a partner at K&L Gates. The process is a two-way street in which you are encouraged to ask as many questions as you need to feel comfortable that the firm is the right place for you and your practice. We are fully equipped to conduct interviews virtually when necessary.
To begin exploring opportunities as a partner with K&L Gates, please contact one of our firmwide recruiting professionals:
Dyana P. Barninger
Director, Legal Recruiting
300 South Tyron Street, Suite 1000
Charlotte, NC 28202
T: +1.704.331.5735
F: +1.704.331.7598
dyana.barninger@klgates.com
Melissa A. Peters
Sr. Manager, Lateral Recruiting
One Newark Center
Newark, NJ 07102
T: +1.973.848.4120
F: +1.973.848.4001
melissa.peters@klgates.com