Recognitions
Our firm is recognized consistently for providing clients with the most sophisticated solutions to legal challenges around the world.
Below is a selection of our awards and recognitions.
Recognized Among Top Law Firm Brands
For a tenth consecutive year, K&L Gates was recognized among the top 20 strongest U.S. law firm brands in legal market research company Acritas' U.S. Law Firm Brand Index 2021.
Ranked Among Most Innovative Law Firms
Legal workflow software company Litera named K&L Gates "Law Firm of the Year" during The 2020 Changing Lawyer Awards. The awards honor those in the legal industry for their willingness to embrace and drive change - through new technology, service models, or behavior - with the "Law Firm of the Year" award recognizing the firm that has most successfully reimagined the way they serve their clients.
K&L Gates was one of 15 Australian firms named to the Australasian Lawyer's 2020 Innovative Law Firms list, recognizing firms at the forefront of innovation. K&L Gates was noted for its use of visual communication, client portals, and artificial intelligence, among other areas.
Recognized Among America's Top Corporate Law Firms
Forbes recognized K&L Gates among America's Top Corporate Law Firms for 2019 and as one of the most recommended firms in the area of litigation and dispute resolution as part of the magazine's first-ever legal industry review. The firm was also recognized as "Law Firm of the Year" in the area of Corporate Law in the 2022 edition and Commercial Litigation in the 2023 edition of the Best Law Firms®.
Recognized for Superior Client Service
The BTI Consulting Group (BTI) has recognized K&L Gates for "superior client service, demonstrating a culture driven by client focus, and understanding clients' business," according to BTI Consulting Group's 2022 Most Recommended Law Firms report.
Recognized by general counsel as one of the top law firms for superior client service. The firm has made 21 straight appearances on the BTI Client Service A-Team, an annual report based on in-depth interviews with legal decision makers at the world's leading organizations.
Internationally Ranked Among Top Law Firms
K&L Gates was again among the top ten firms - out of more than 15,000 ranked - for most overall first-tier rankings in the 2023 U.S. News-Best Lawyers® "Best Law Firms" survey. K&L Gates' full rankings include 40 national first-tier rankings and 130 first-tier marks across 18 state and metropolitan areas in 58 different practice groups. To read our full list of 2023 rankings, click here.
The firm has been recognized in the U.S. News-Best Lawyers® "Best Law Firms" report as "Law Firm of the Year" in the area of Commercial Litigation in 2023 and Corporate Law in 2022.
Honored as a Litigation Standout
The firm was named a "Litigation Standout" for complex commercial litigation in the 2020 BTI Litigation Outlook.
Awarded a 100% Score in the 2022 Corporate Equality Index
For the 12th consecutive year, the Human Rights Campaign awarded our firm a 100 percent score in the organization's 2022 Corporate Equality Index (CEI), and named the firm a "Top Law Firm for Equality."
Recognized as a Top Performer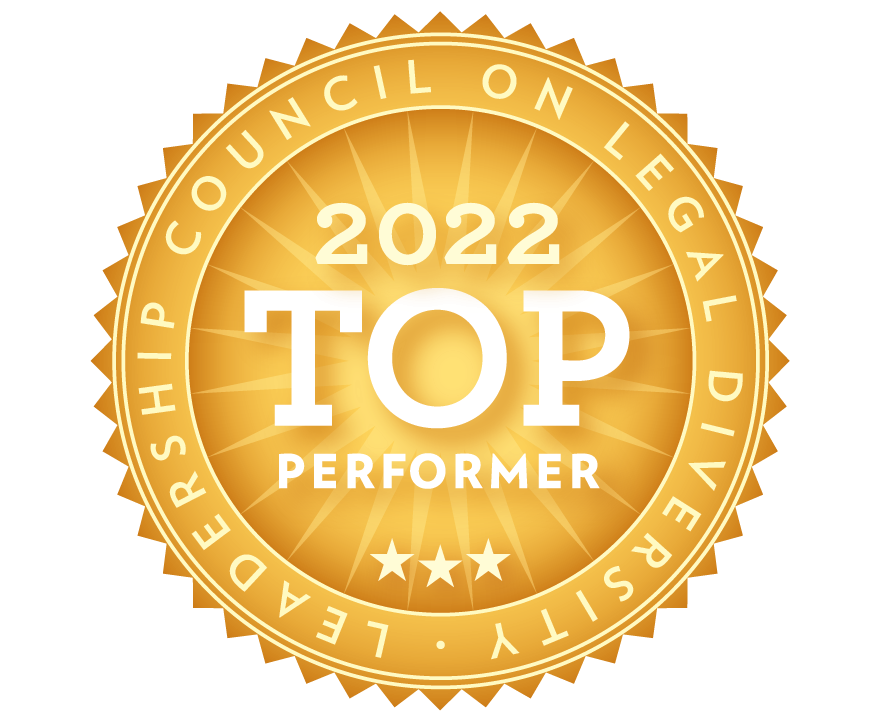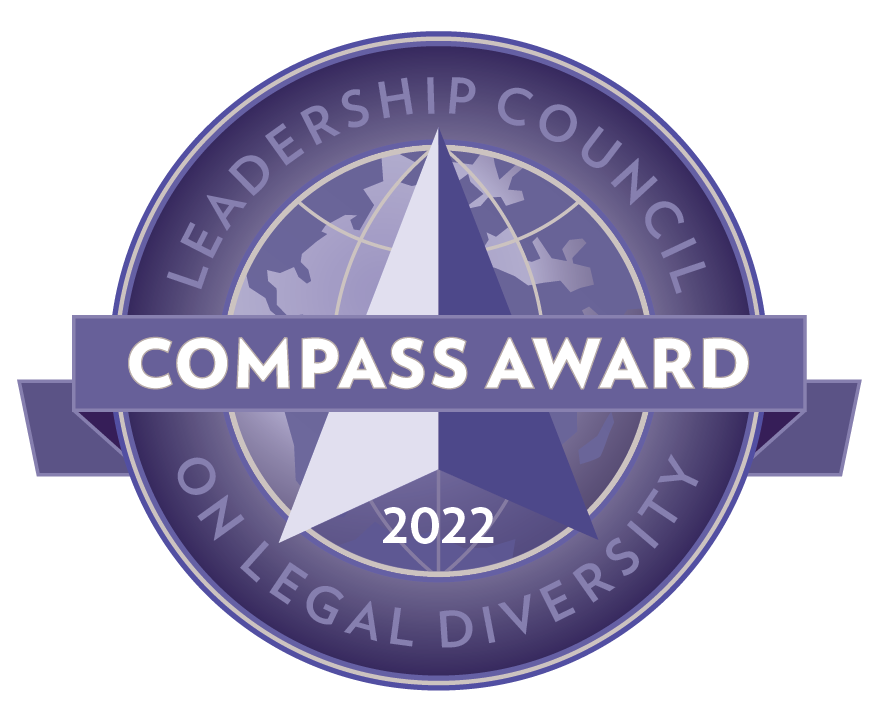 We have been recognized with both the 2022 Top Performer and Compass Award designations from the Leadership Council on Legal Diversity (LCLD). These distinctions recognize organizations and law firms with the highest level of engagement with LCLD, signaling a commitment to building more diverse organizations and a more inclusive legal profession.

Awarded Gold Standard Certification by the Women in Law Empowerment Forum
Our global law firm has been awarded a United States Gold Standard Certification by the Women in Law Empowerment Forum (WILEF) for the eleventh time, recognizing the high levels of success by the firm's women as partners and leaders.
Recognized as a "Best Place to Work for Disability Inclusion"
Our global law firm has been named one of the "Best Places to Work for Disability Inclusion" in the 2023 Disability Equality Index (DEI) by Disability IN. We are one of only seven law firms to achieve this distinction.
Microsoft's Law Firm Diversity Program
We were honored as a top achiever in advancing diversity within the legal profession by Microsoft's Law Firm Diversity Program, tying for first place for our work in increasing diversity across three key areas: the firm's overall partnership and leadership, among Microsoft's relationship partners, and on Microsoft's client matters.
Chevron's Law Firm Diversity Awards Program
We were recognized by longtime client Chevron U.S.A. for our commitment to inclusion and diversity at Chevron's annual law firm diversity awards program. The award recognized Chevron law firm partners that have distinguished themselves through their commitment to diversity in the legal industry and by fostering an inclusive work environment.
Lockheed Martin Corporation's Diversity Awards Program
We were recognized by Lockheed Martin Corporation for our excellence in diversity and inclusion. The honor was based on the strength and diversity of the client's outside legal teams, including the percentage of minority and female timekeepers working on the client's matters. This was the first time an outside law firm had been recognized for excellence in the area of diversity and inclusion.
The firm delivers pro bono services in cooperation with dozens of organizations and legal services programs, including the American Civil Liberties Union, Cancer Council of Australia, Charlotte Center for Legal Advocacy, Chicago Volunteer Legal Services, Children's Law Center, Coalition to Abolish Slavery and Trafficking, Consumer Action Law Centre, Global Pro Bono Bar Association, Habitat for Humanity, Her Justice, International Justice Mission, International Senior Lawyers Project, Kaleidoscope Human Rights Foundation, Kids in Need of Defense (KIND), Justice Connect, Lawyers' Committee for Civil Rights, Lawyers for the Creative Arts, National Immigrant Justice Center, National Immigrant Women's Advocacy Project (NIWAP) Inc., Neighborhood Legal Services Association, Northwest Immigrant Rights Project, Northwest Justice Project, Public Counsel, Refugee Legal, St. John's Legal Centre, Tahirih Justice Center, and numerous local referral sources and bar associations.
K&L Gates' lawyers have recorded over 225,000 hours on approved pro bono matters in the last five years. We litigate civil rights cases, establish and advise nonprofit organizations, assist such organizations in transactions, and represent indigent persons in consumer, landlord-tenant, and immigration matters. In addition to providing legal assistance directly to individuals who have limited means but substantial civil legal needs, we provide legal counsel and public policy advocacy to help organizations advance their public-service programs, work to advance the rule of law around the world, and accept court appointments to provide pro bono counsel. Each year, the firm highlights a selection of recent pro bono work and awards in For the Good of All. The firm received recognition for our anti-human trafficking initiative, drawing on the strength of nearly 2,000 lawyers in more than 45 offices.
The firm has underscored its institutional support of pro bono activities in several ways. K&L Gates is a signatory to the Pro Bono Institute's Law Firm Pro Bono Challenge. The firm treats all hours reasonably recorded on approved pro bono matters as the equivalent of billable hours in determining associate bonus eligibility. A firmwide Pro Bono Committee oversees the firm's pro bono programs in collaboration with Pro Bono Coordinators in each K&L Gates office. The Pro Bono Committee assesses the effectiveness of the firm's pro bono efforts and provides leadership to ensure fulfillment of our professional obligations as lawyers.
Beyond pro bono legal representation, our lawyers and staff perform varied public service work in the communities where they live and work. This includes serving as members of governing bodies of educational institutions, youth sports and arts organizations, environmental groups, civic and cultural organizations, and health care and research institutions, as well as social service and community organizations.