K&L Gates Recognized as Banking & Finance, Corporate Teams of the Year at Qatar Business Law Forum Awards
14 October 2022
Doha - Global law firm K&L Gates LLP earned multiple recognitions during this week's Qatar Business Law Forum & Awards, capturing honors for both "Banking & Finance Team of the Year" and "Corporate & Commercial Team of the Year" for 2022, along with an honorable mention in the Property and Construction category.
The annual forum and awards ceremony recognizes exceptional achievement within Qatar's legal community and are judged by a panel of nearly 30 industry leaders, academic practitioners, and government officials. Office senior partner Amjad Hussain and transactional team members collected the award on behalf of the firm.
"We are delighted to be honored as both the Banking & Finance Team of the Year and the Corporate Team of the Year at the Qatar Business Law Forum Awards," said Hussain. "This, together with the honorable mention for our Property & Construction team, shows that K&L Gates continues to be highly rated and trusted by local and international clients in Qatar. We remain truly grateful to our clients for their ongoing support and look forward to continuing to play a key role in their business and legal operations."
The recognitions come at the same time as several others for the firm, with K&L Gates also this week earning the "Domestic Deal of the Year" award at the International Financial Law Review (IFLR) Middle East Awards 2022. The firm was recognized for leading the merger in Qatar of Masraf Al Rayan with Al Khaliji Bank, which led to the creation of one of the largest Islamic banks globally. Earlier this month, K&L Gates also received the Banking & Finance Law Award from the Islamic Finance News (IFN).
K&L Gates lawyers in Doha have a deep understanding of the Qatari legal, regulatory, commercial, and financial markets paired with substantial Middle East and international experience, offering legal advice in all key areas, including corporate, commercial, regulatory and legislative drafting, projects, energy and infrastructure, aviation, banking and finance (including Islamic finance), telecoms, media and technology, real estate and construction, intellectual property, and dispute resolution.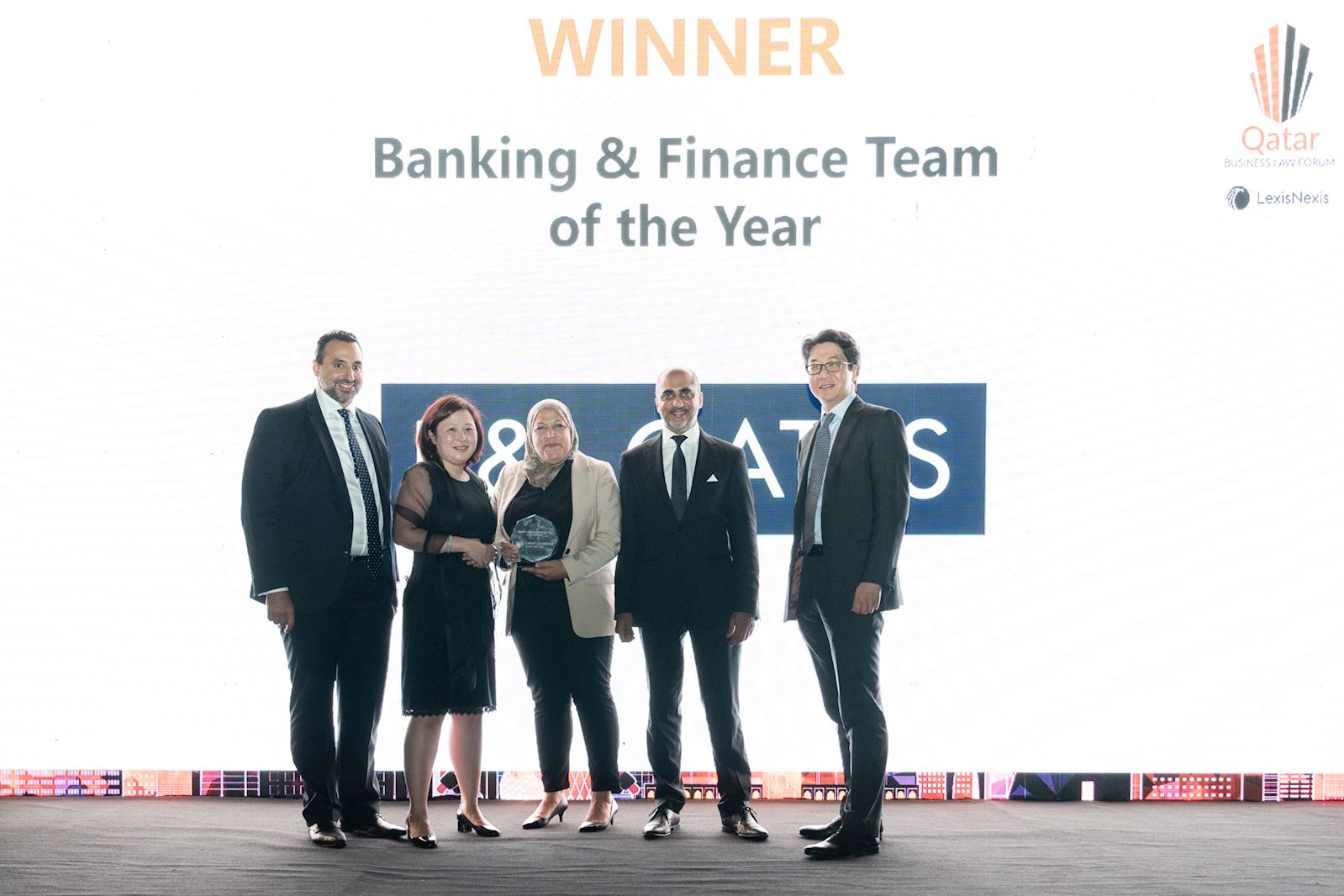 K&L Gates' Elias Matni, Jaime Oon, Randa Shiblaq, Amjad Hussain, and Simon Chan
Photo courtesy of Lexis Nexis.
K&L Gates is a fully integrated global law firm with lawyers located across five continents. The firm represents leading multinational corporations, growth and middle-market companies, capital markets participants and entrepreneurs in every major industry group as well as public sector entities, educational institutions, philanthropic organizations and individuals.