Region
Middle East
We advise clients in the Middle East through our offices in Dubai and Doha. We are well positioned to provide solutions to the global legal challenges of our regional clients as well as help international clients with their Middle East matters. Our lawyers have the experience to tackle the most complex legal challenges in the Middle East, as well as support the legal needs of regional clients abroad.
Our Doha office is located in Qatar's West Bay and includes a team of lawyers who have a deep understanding of the Qatari market, as well as having substantial Middle East and international experience. Our primary practice areas are corporate, including mergers and acquisitions; investment funds; banking and finance, including Islamic finance; projects and construction; and dispute resolution, including arbitration, regulatory advice, and real estate.
Our lawyers advise regional and international corporations and governments throughout the Middle East, Asia, the North Africa region, and beyond. They have considerable experience and industry connections and are able to leverage the capabilities of our colleagues in the firm's offices across the Middle East, Asia, Europe, South America and the U.S. Our Doha team is also poised with bilingual Arabic/English speaking lawyers.
Our Dubai office, located within the Dubai International Financial Centre, supports clients doing business in both the United Arab Emirates (UAE) and the wider Middle East and North Africa (MENA) region. The UAE's continued commitment to infrastructure development and its position within the financial services sector makes it an important location for our firm. Further, its proximity to Europe, Africa, and Asia enhances the strength of its international trading relationships.
The primary practice areas of our Dubai office are dispute resolution, including arbitration; banking and finance; real estate; employment; a broad spectrum of commercial and corporate matters, including mergers and acquisitions, private equity, and venture capital investments; capital markets; investment funds; and financial services regulatory advice. The office also works closely with our firmwide Islamic finance and investment group. In addition, our Dubai lawyers provide advice on UAE law and practice, including retention and supervision of local lawyers in the Dubai and UAE courts.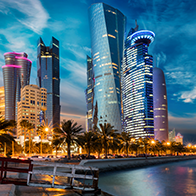 Qatar Financial Centre Branch licensed by the Qatar Financial Centre Authority (QFC No. 00144)
31st Floor Tornado Tower
Al Funduq Street
PO Box 26100 West Bay
Doha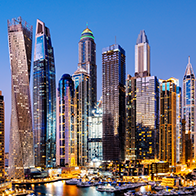 Al Fattan Currency House, Level 4, Dubai International Financial Centre, P.O. Box 506826
Dubai