Allied Professionals
K&L Gates offers a variety of career opportunities—from entry-level support roles to seasoned professionals and management-level employees responsible for the operations of entire departments. We look for individuals who want to be part of something bigger, who strive to provide unsurpassed client service across a global platform, and who want to work with others who share these common goals. We emphasize the importance of hiring, developing and retaining high-quality employees who are driven to make a positive impact at the firm. Individuals with a high degree of integrity and professionalism, who have an enthusiasm for their work, and who enjoy a fast-paced and dynamic work environment, will find success working at K&L Gates.
WHY WORK AT K&L GATES
Collaboration, respect, teamwork, and the fostering of every employee's continuing professional growth are the mainstay of our firm.
K&L Gates employs thousands of allied professionals and lawyers in more than 45 fully integrated offices across five continents. We have a one-firm, one-team mentality and an overarching culture of inclusion and innovation. From day one, you will be immersed in a collegial, team-based environment where every person's effort matters. Regardless of whether you are commencing or advancing your career, you will enjoy exposure to the latest technology and innovations, sophisticated work, and continuous learning and development, along with outstanding benefits.
Current Openings
See our current openings.
VIEW
FAQs
Have questions? We have answers.
VIEW
Corporate Social Responsibility
Learn about our commitment to pro bono, sustainability, community service, and diversity.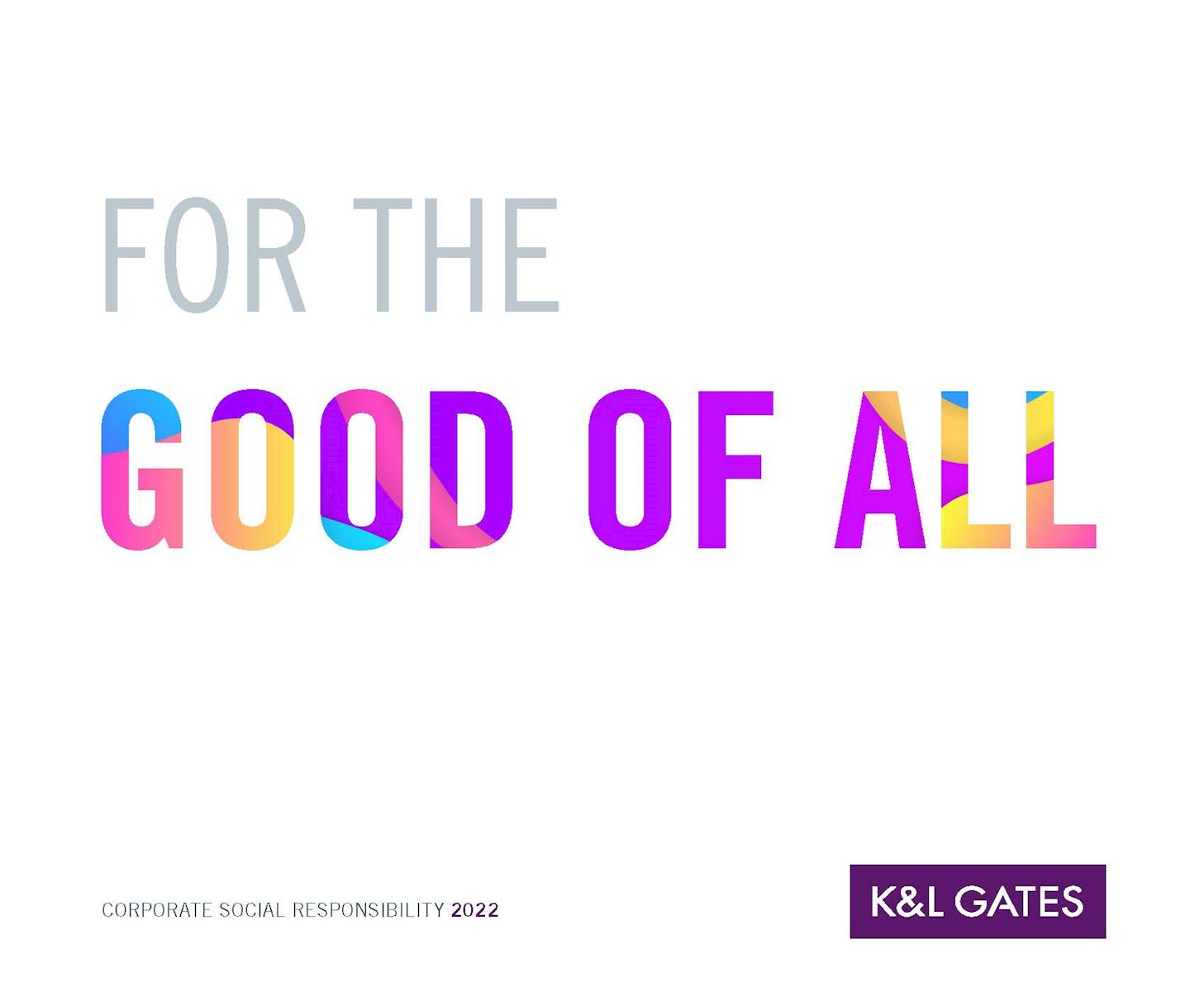 Read our CSR Report
Health and Wellness
K&L Gates is invested in the health and wellbeing of our employees. The benefits we offer to our professional staff are highly competitive and include many resources for maintaining healthy lifestyles.
Health Matters
Health Matters is a firmwide initiative created to center on the mental health and wellness of all K&L Gates personnel, and is an expression by the firm that it is behind its lawyers, business teams, and staff members if and when they may need support. The key objectives of Health Matters are to foster a culture of awareness, acceptance, support, and well-being; strive to eliminate the stigma associated with seeking help with dependency and mental health-related challenges and suicide; and seek to provide tools to improve the physical and emotional lives of our personnel.
Benefits Packages
Our comprehensive benefits packages are tailored to each of our regions. For detailed information about the benefits packages offered in your location, speak to your recruiter. Below are details of the packages in some of our larger markets.
Professional Development
Highly qualified and competent professional staff is vital to the success and well-being of the firm. Our aim is for every employee to succeed and grow as individuals alongside the firm's growth, and we strongly believe that continuing training and development is an investment in the firm's future. We regularly provide in-house training programs and support for a variety of external professional development activities to help our staff personally thrive and excel.
All professional staff job openings worldwide can be found by clicking the Current Openings link. There, you can filter for jobs by the location and department that meets your interest. If your skill set aligns with our needs, a recruiter will contact you to discuss your experience and interest in K&L Gates. While candidates selected for interviews will be notified of their status, we regret that we cannot personally contact all applicants regarding their candidacy for the position. Most openings remain posted until the position has been filled. We invite you to regularly check our job openings to discover currently available opportunities.