Our global private funds practice comprises more than 100 fully integrated lawyers in offices across the United States, Europe, Australia, and Asia. Our lawyers are positioned in the world's leading capital-market cities—from New York to London to Hong Kong—and in dynamic and rapidly growing technology and development centers, including Melbourne, Austin, Boston, Paris, Palo Alto, Pittsburgh, Research Triangle Park, Fort Worth, and Seattle.
Our private funds lawyers advise fund sponsors and investors across the full spectrum of asset classes, including private equity, real estate, venture capital, hedge, credit, infrastructure, and fund of funds on the myriad issues faced by sponsors of these private investment funds and the limited partners and other investors who invest in those funds.
Our cradle-to-grave approach provides the opportunity to see all sides of the fund world and gives us a unique understanding of the private funds lifecycle.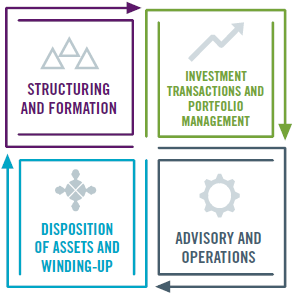 We couple our global, lifecycle perspective with deep industry- and sector-specific experience across many of the key industries in which today's private funds most actively invest. This allows us to leverage our private fund lawyers with practitioners who focus on transactions, regulatory matters, and operations in distinct industries. We are committed to staying on top of market trends and cognizant of emerging nuances and developments. Industries served include:
Technology
Health Care
Manufacturing
Industrials and Distribution
Energy
Business Services
Financial Services
Food and Beverage
Consumer
Agribusiness
The group's breadth of global experience across sectors and asset classes, as well as its sophisticated knowledge of all aspects of fund formation, transactions, and operations, allows us to see issues before they arise and to provide holistic, efficient, and practical advice to our clients—both to the funds themselves and to the investment portfolios maintained by those funds.